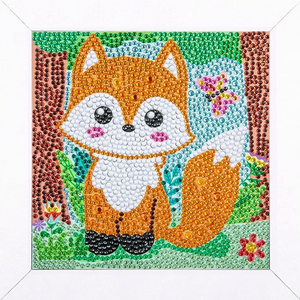 Fox 5D Diamond Painting Kit With Wooden Frame
Regular price
Sale price
$9.99
Shipping to:
Shipping to:
Delivery By:

Your information is 100% secured
The Fox 5D Diamond Painting Kit with Wooden Frame is an artistic craft that allows you to create a portrayal of a fox using sparkling resin diamonds. Included in the kit is a high-quality canvas featuring a printed image of a fox divided into numbered sections, and faceted resin diamonds in an array of colors. A specialized tool with a sticky end that enables placing the resin diamonds onto the canvas.
Features:
Size: 

6 

x 

6 inches

Material: 

Wood, Canvas, Paper, Acrylic, Crystal
Highlights:
The best diamond painting kits for kids are designed to help them develop their practical hands-on skills, patience, and aesthetic sense as well as their ability to focus and practice self-discipline while having fun.

Shine Diamonds: The painting takes on a three-dimensional appearance thanks to the high-quality, sparkling acrylic diamonds, which come in a variety of sizes and hues.
Play with Fun: Our kids' diamond art kits come with a tray, mud, and 2 pieces of point drill pens, for adults to collaborate with their kids to finish this project and enjoy the excitement of parent-child connection. Colors give the artwork additional depth and character while also making it look beautiful and vibrant.
Our diamond painting kits include a wonderful white frame that is already framed. Great decor for putting on the table and hanging on the wall of the home, perfect for decorating the infant room, living room, and other rooms.
Best Gift for Children: A handmade item makes a wonderful gift for special occasions like Christmas, Thanksgiving, the New Year, birthdays, and other holidays. High-quality oil canvas, a wooden frame, crystal diamonds, a point drill pen, a tray, and mud are included in the package. The diamond bag has the corresponding sign for the color code on the canvas. The code on the paper and the code on the diamond bag are identical.